Fresh Kiwi-Grape Juic: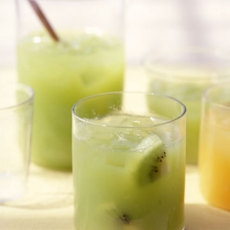 Ingredients:
•8 ripe kiwis (about 2 1/2 pounds), peeled
•2 cups green grapes (about 12 ounces)
•2 Granny Smith apples (about 1 pound), cored and cut into large chunks
•1 teaspoon fresh lemon juice
Preparation method:
1.Slice 2 kiwis crosswise into 1/2-inch-thick rounds, then cut each round into quarters; reserve for garnish.
2.Cut remaining 6 kiwis into large pieces. Using an electric juicer, juice kiwis, grapes, and apples, and transfer to a medium bowl. Stir in lemon juice. Transfer to a jug filled with ice.
3.Divide juice among 4 glasses. decorate with kiwi, and serve immediately.
Finally, you can decorate your own drink with mint leaves and a slice of kiwi and grape.Bon appetite.